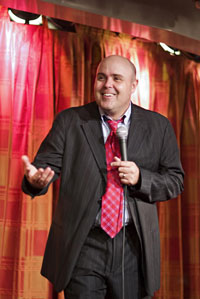 To describe Mark's comedy would be like trying to describe the color of laughter so let's not even bother.
The fact is audiences love him. He never walks anyone and he will sign autographs for all who are dumb enough to ask.
An inventive mix of comedy and original music, Mark's act moves flawlessly between audience interaction, musical humor and perfectly polished material – all uniquely personal with topics ranging from going bald, his children, plus the trials of being a live-at-home dad to what it's like being an epileptic in a world of people who never fall down and shake violently for no apparent reason. Mark performs a "famiily" show as well as an adult oriented show.
Mark's show always has them have people rolling in the isles. Okay, only once when he was on a ship that was in really rough water. You take it where you can get it. But that show ended with a stumbling ovation.
Whether you see the family show or the adult show, it is always a fast-moving, high-energy, and friendly experience. You seem to "know" Mark at the end of the performance.
Everybody likes Mark. Even his mother.
Mark has written and published two books available NOW on Amazon.com!
Tricks of the Trade
– Insider Secrets to Becoming a Successful Entertainer
The "Dead Trees" version of Tricks of the Trade
Falling Down Funny
– Living With Epilepsy: A View From the Ground Up
The "Dead Trees" version of Falling Down Funny
To book Mark Hawkins, send an email to Jan Stenning at jan@tadshows.com